This is my '06 year end recap. It is mostly all from GA, since I just moved there. I fished with a ton of awesome guys from georgiariverfishing.com (the parent site to all these). It has over 400 members and one day I hope this site does too. It is lonely around here sometimes. And, I know SC has just as many good rivers and river fisherman as GA. Anyway, I thought I would share this here with whoever is out there...
Man, what a year guys. It all started at Juliette on our New Years day outing....what happened after that is all a blur (especially if you sroll down too fast...
)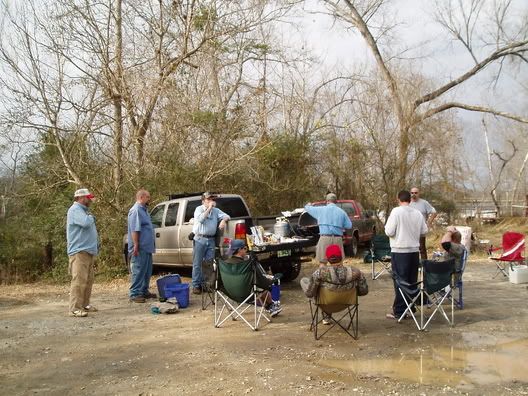 My dad took me in his boat on New Years and we started it off right by catching a few nice fish...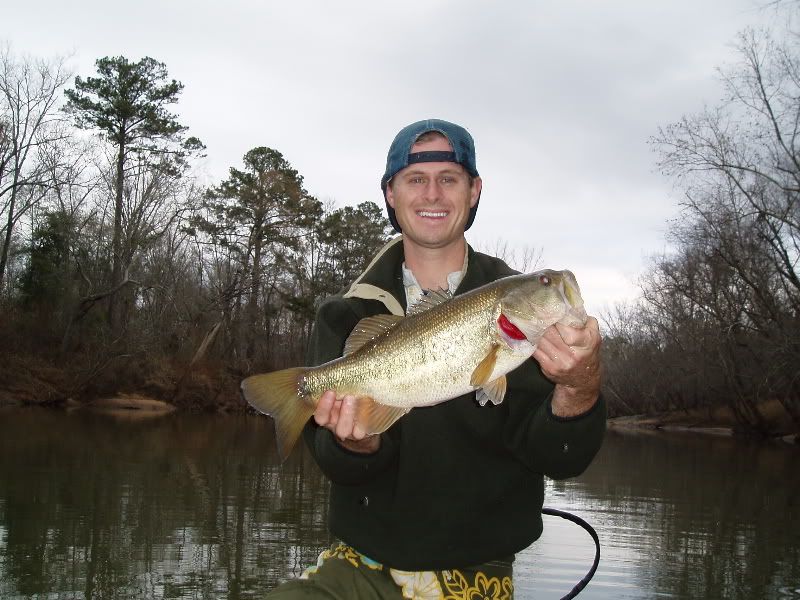 Creekstalker had recently gotten a new boat thanks to the GRF community. Here he was showing its stability off.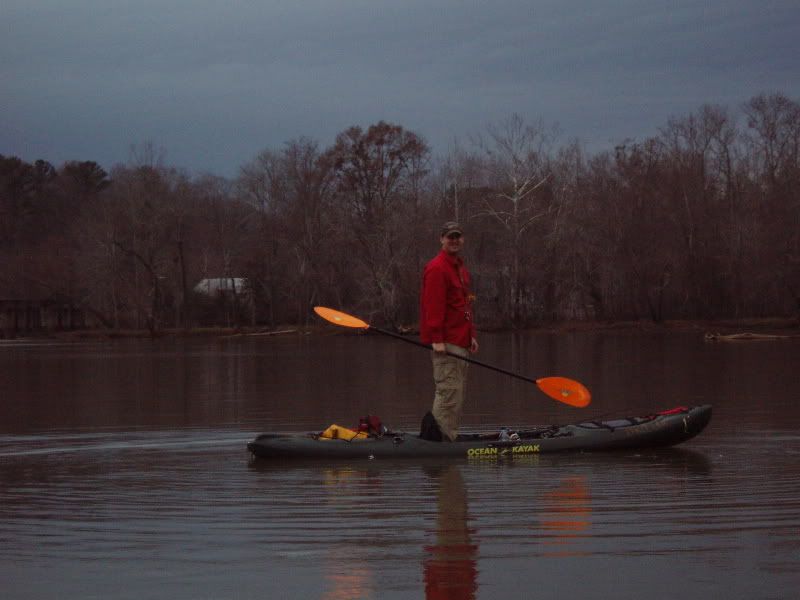 A couple weeks later, Red Heron and I found ourselves fishing on what was probably the coldest day of the year. I cast my bait thousands of times that day and only managed two fish - on consecutive casts no less! However, one was this 5lb shoalie.
Red Heron managed to snag his first of the year here as well. The two of us will never forget that 40 degree, 25-30 mile an hour wind day.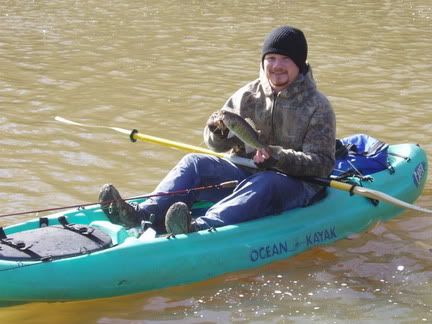 Flinteye showing he has the gonads to stand in the winter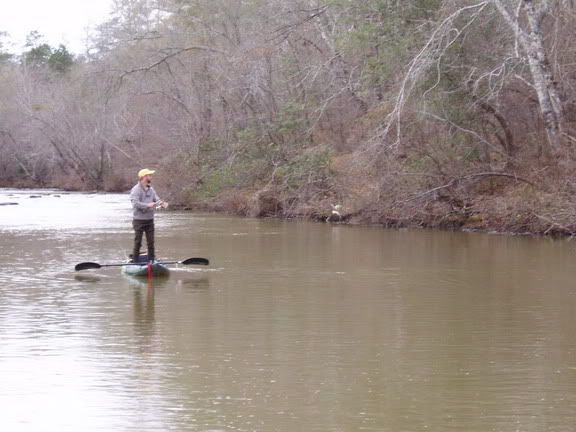 Then, KL calls and wants to hit a mountain flow in the winter! Seemed like a challenge so we did it. In 45 degree mountain cold water we were able to actually do pretty well.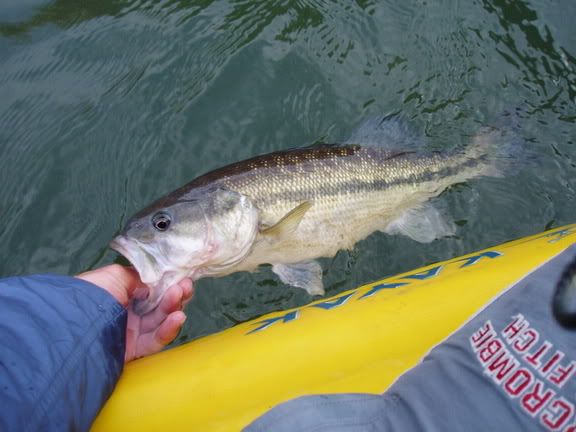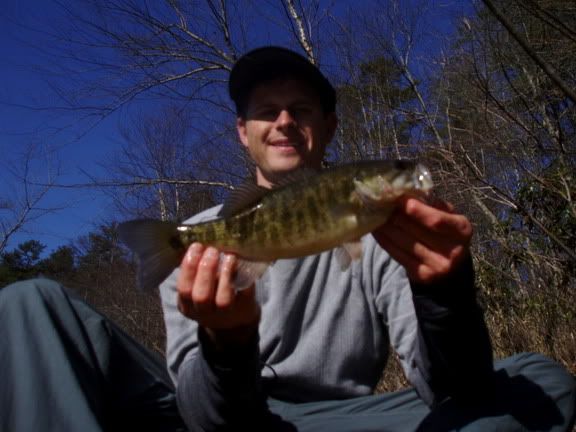 Then, the snow came to Dawsonville. Not much, but it was cool for a few hours until it thawed out.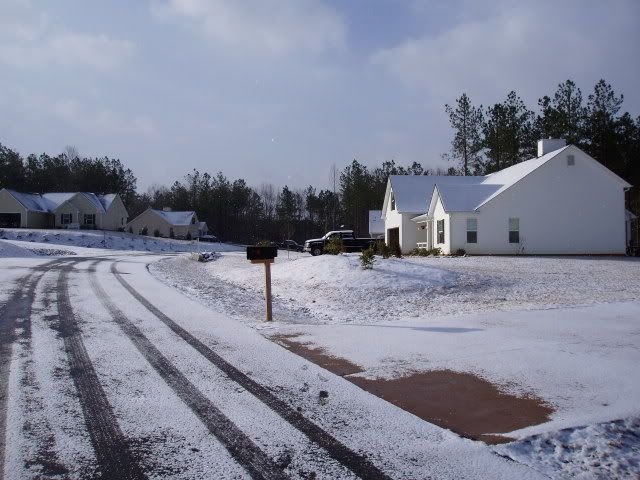 February brought my biggest shoalie of the year.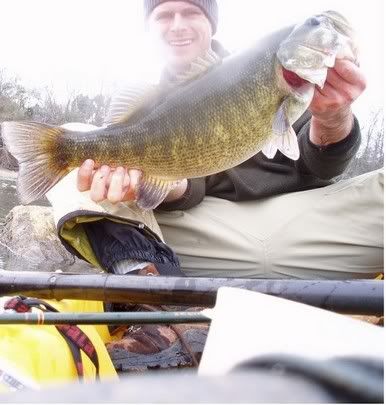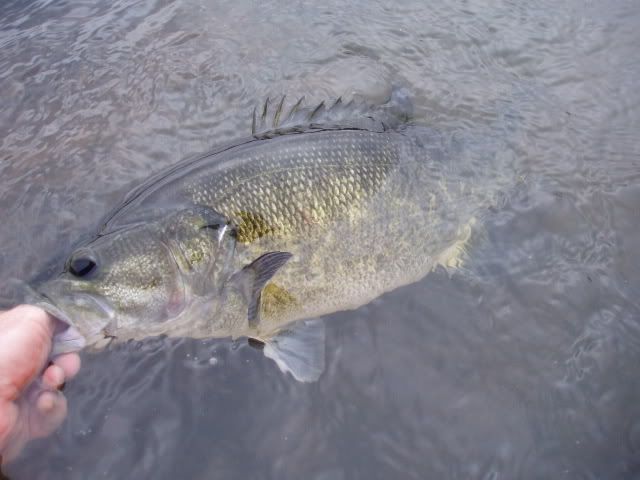 Then some rain actually came in.
Shoalieseeker and I didnt seem to care, we hit a small flow anyway.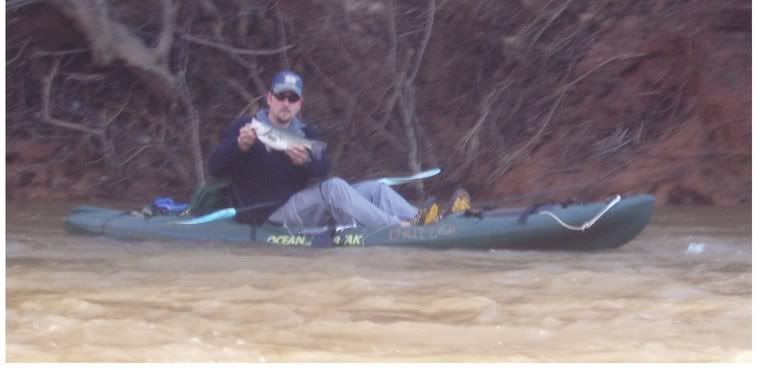 SSF didnt mind much either as he and I also hit a small flow.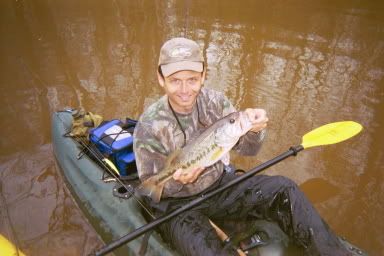 Flinteye and I found ourselves fishing for striper once we stumbled onto some. Man, they were fun!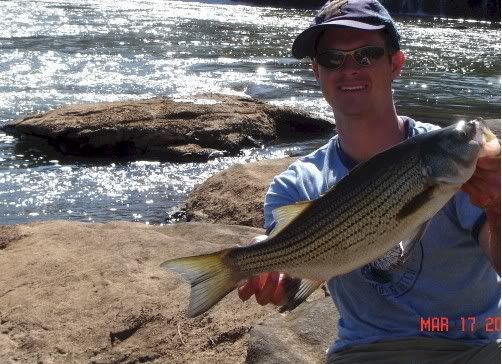 Then, SSF and I hit some bigger water and I was fortunate to get some bigger results. Can you say pre-spawn fatness.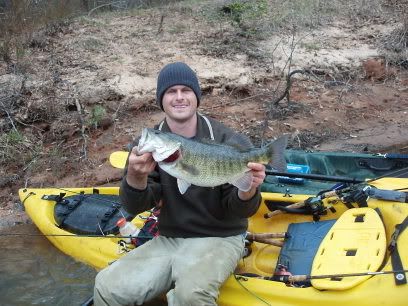 Flyboy gave it a go on a small creek early in the year to no avail...more on him later...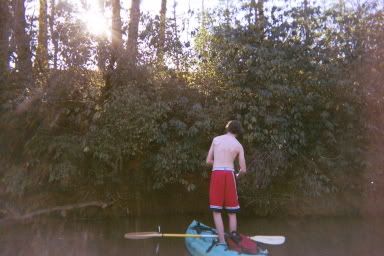 Red Heron and I were able to hook up and do a little HYWT comraderie, plus land this beaut.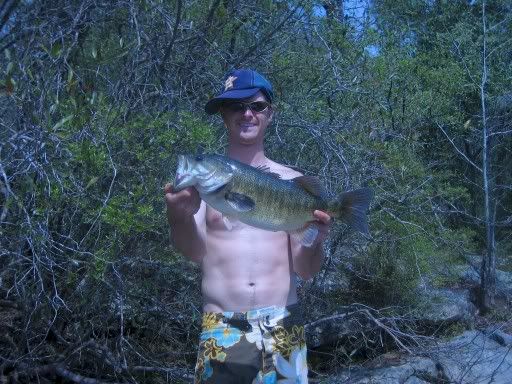 Then, came the shoaliepalooza and the wildest 10 minutes of fishing you will ever see! Right, BB and DFM? Where was swampthang?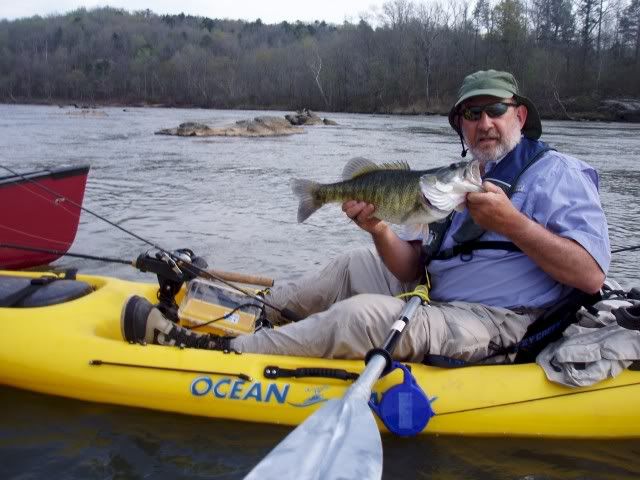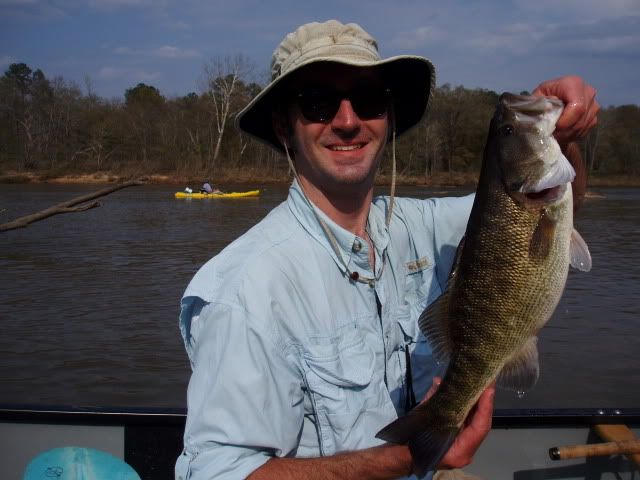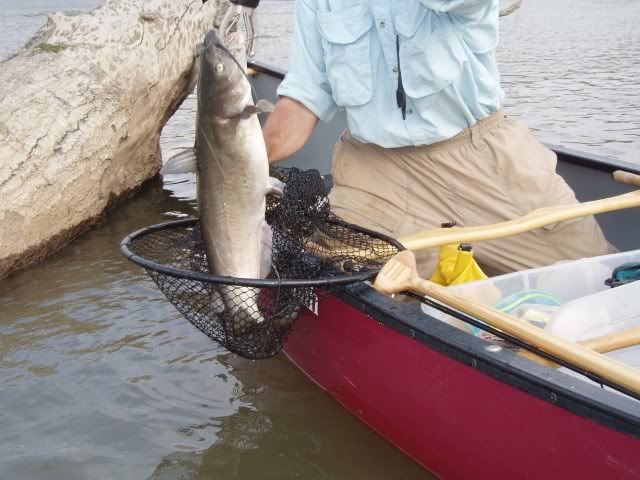 But, back to flyboy and his pursuit of warmwater bass out of a flowing river.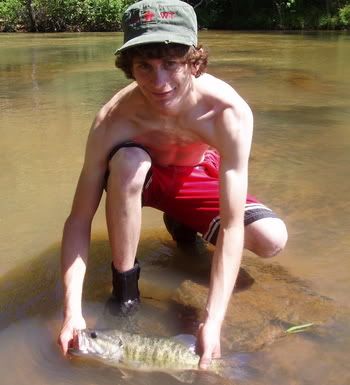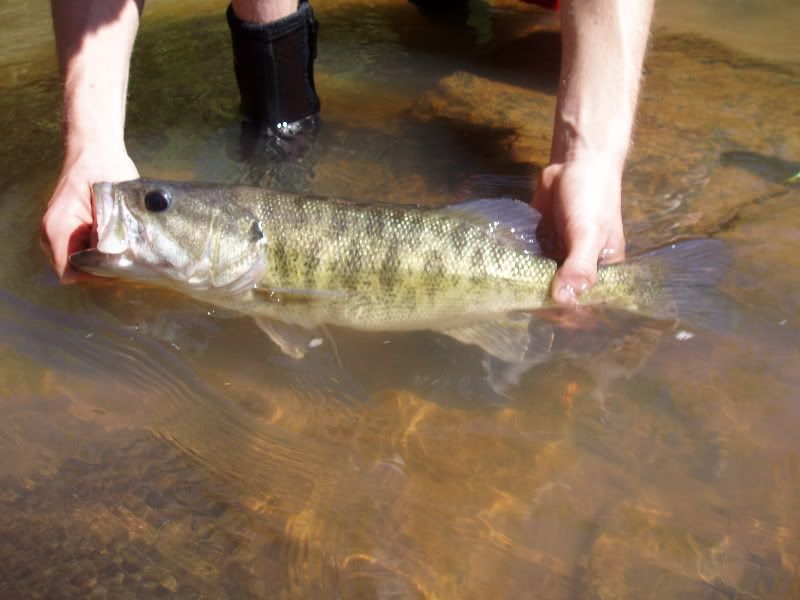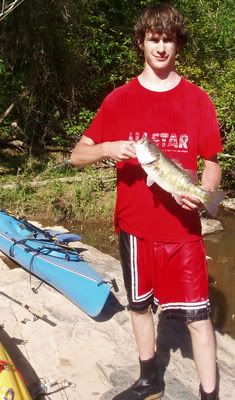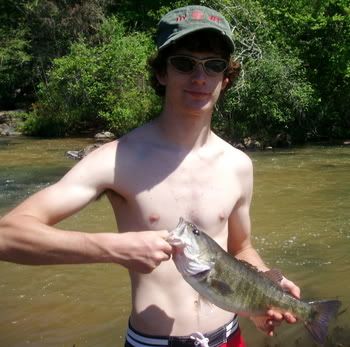 And, then he was able to go again. And, again the river gods smiled upon this newbie...
It was time to get down to S. Ga where the weather was already hot and the fishing wasn't so hot until out of nowhere in the most unlikely looking spot, this big LM blew up on my buzzbait. Nearly made flyboy jump out (or "fly" out) of his yak!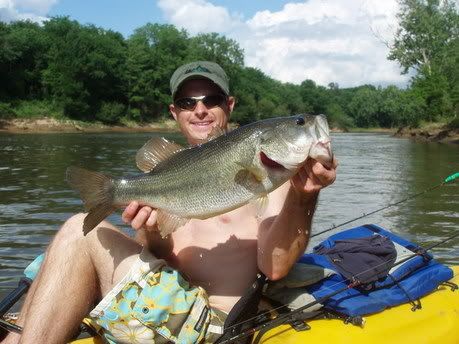 Then, Swampthang and I did a campout to get on the river early. Well, here is the man the myth, the legend himself, Swampthang.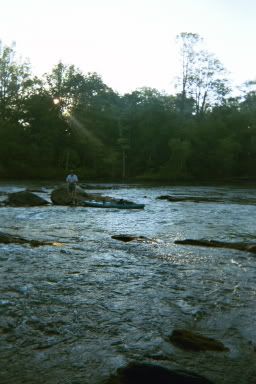 After the swampthang gave me a shuttle the following day I landed a most unusual looking 5+ shoalie. Uh oh, the spawn is over amigos!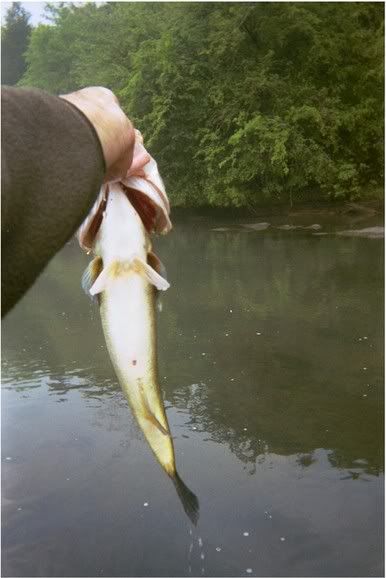 Since the spawn was over, KL and I decided to head north for some GA smallies. And, we found some...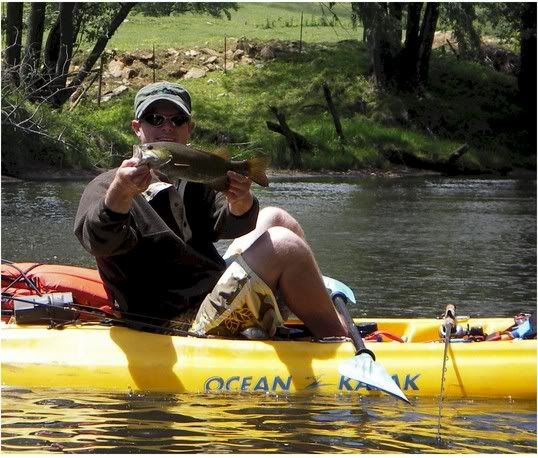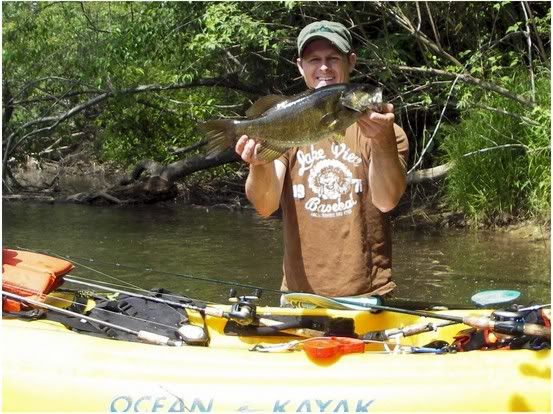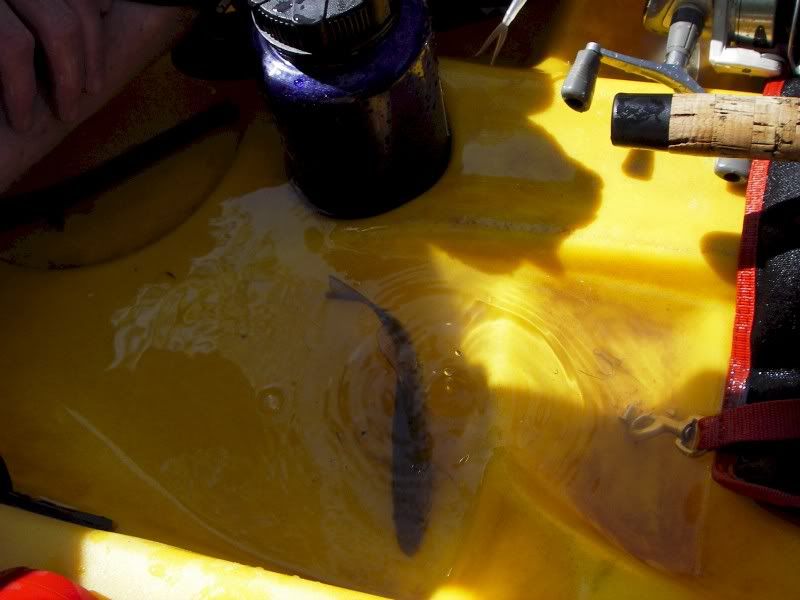 Then, seeing those pics caused SSF to pack up the truck for a chance at at some GA bronze. He found some and some other slimy thing too.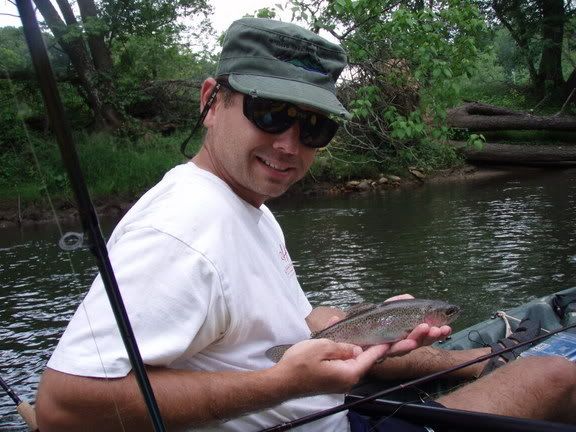 Then, there was this thread....anyone remember it? "made in china"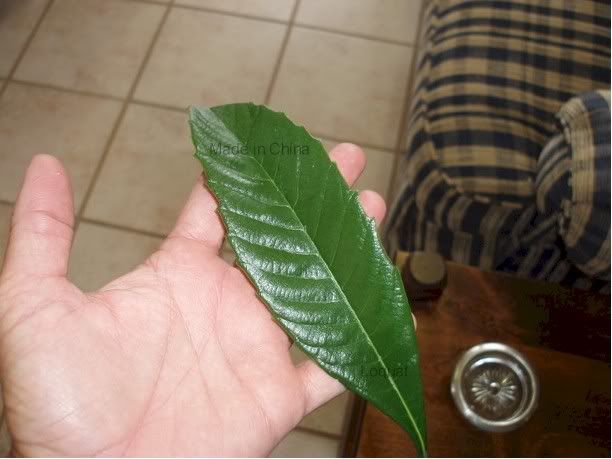 There are still a few smallier up in N. GA if you know which small, no make that teeeeeeeeny creeks to go to. Just watch out because there is some grumpy ol man that will run you off!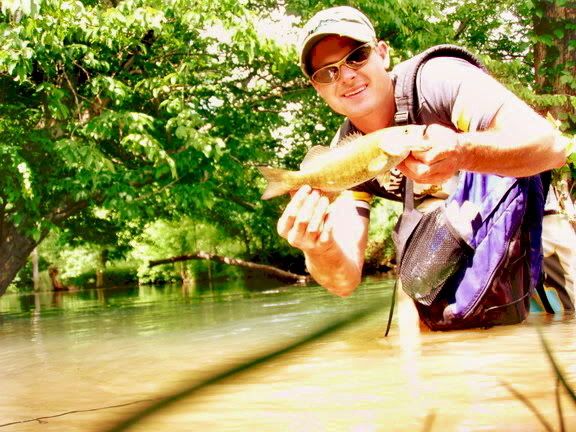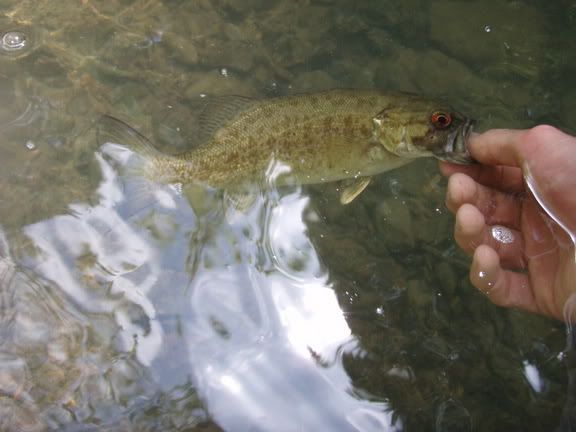 Got into some pretty redeye this year too...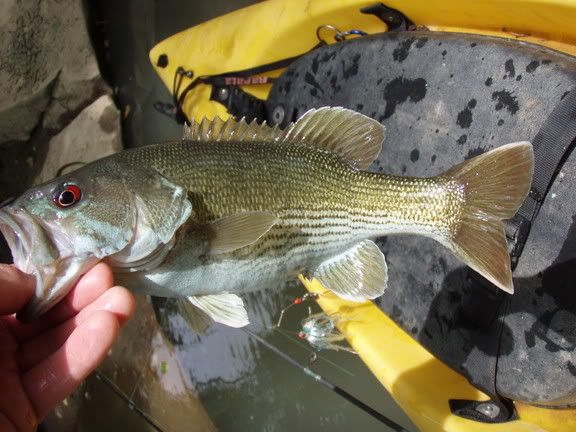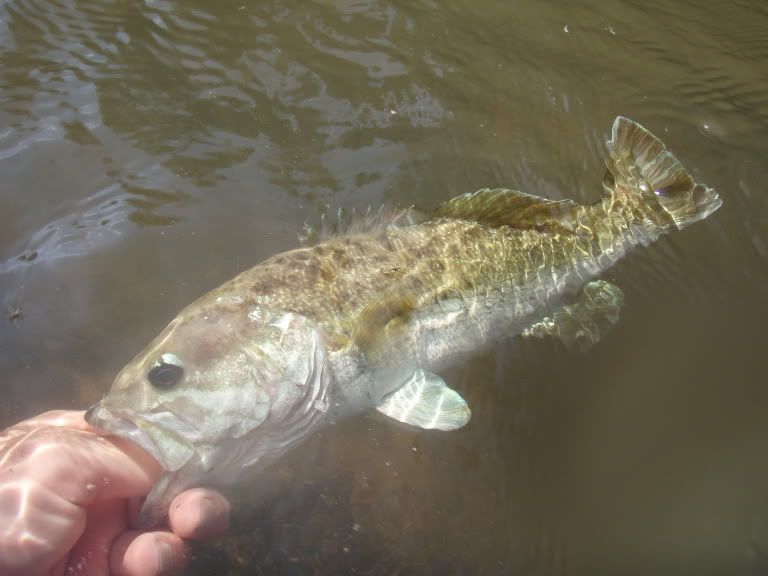 Saved this gar that had line wrapped around his neck!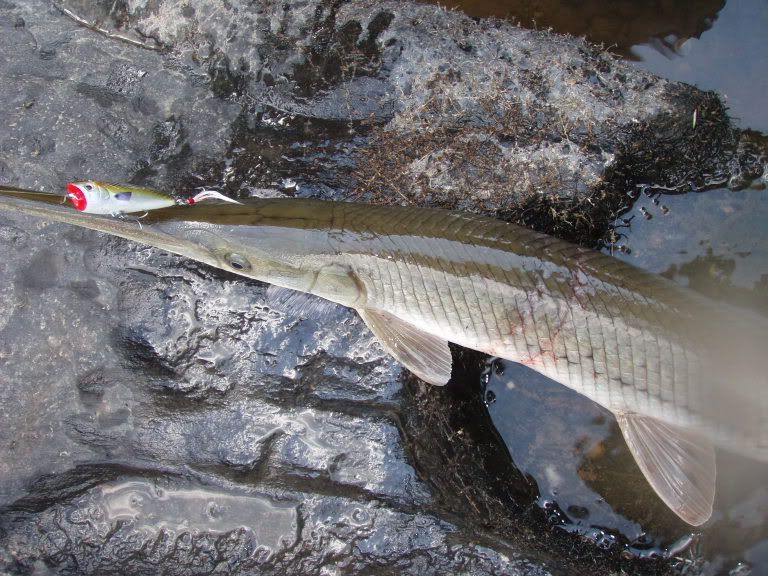 Caught the world's northerm most shoalie. Went as far as their reach would go and nabbed him! Found some nice spots up in that creek as well.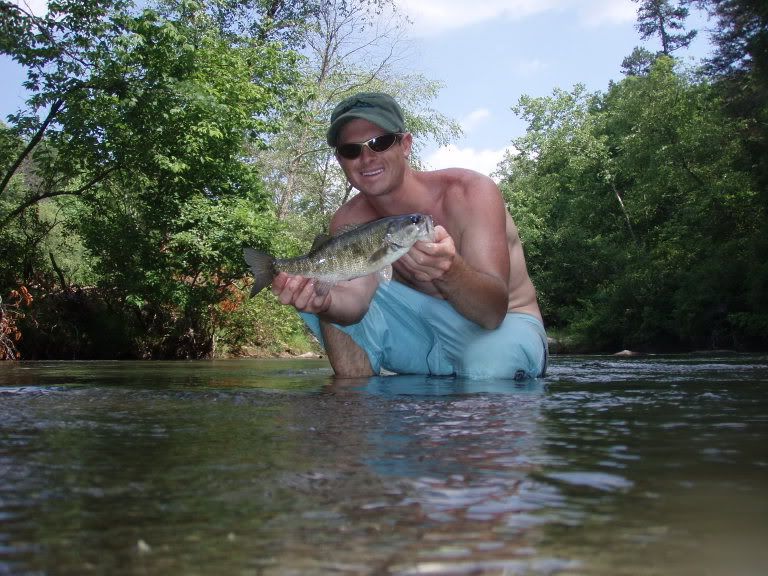 More local N. Ga flow trips produced great fishing and scenery. Man, I was tired of hiking the day I hiked into this secret mountain spot.
Man can only go for so long fishing little n. ga flows. This boy decided to meet up with Blackwater Bill, Cullfisher, Fishing Machine, Fishfinder and shoalieboy for a S. ga, blackwater adventure!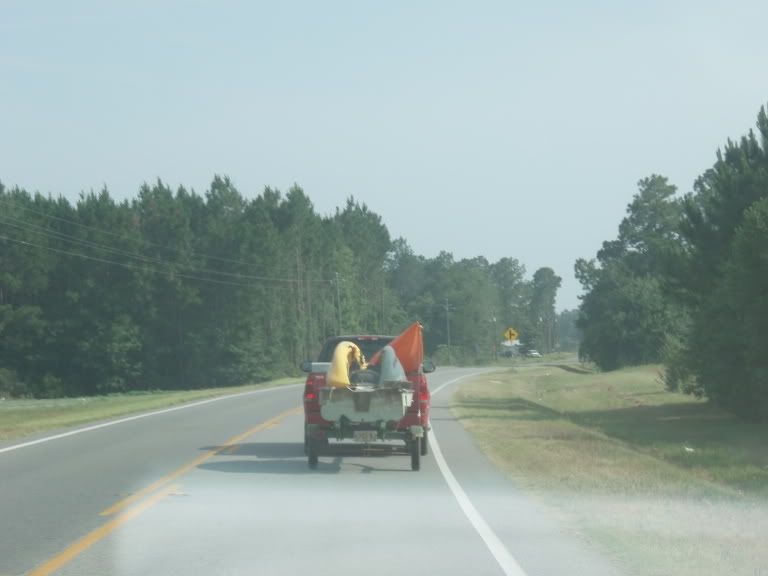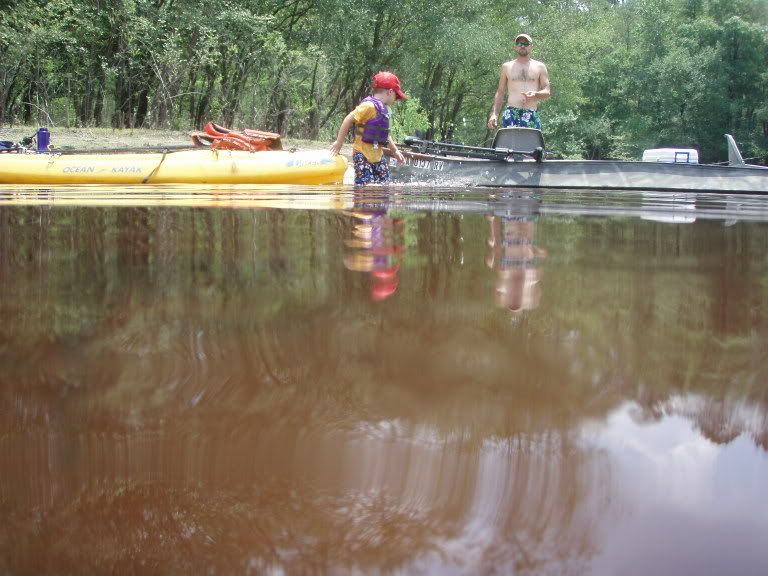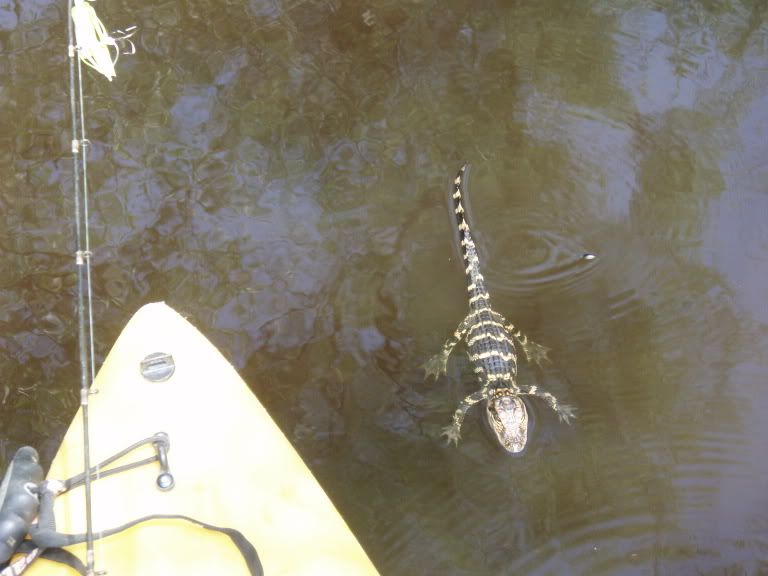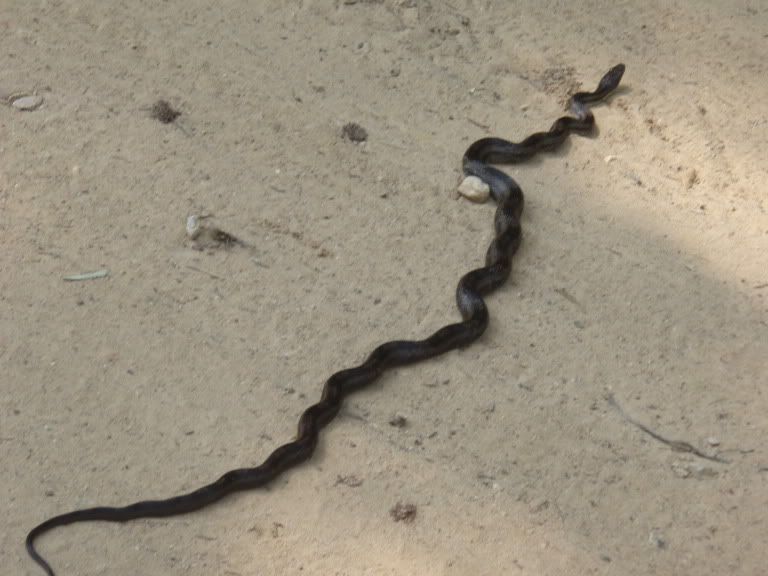 The scenery was better than the fishing, but the fellowship was better than anything else.
Anyway, I decided to do S. ga again the next trip. I teamed up with SSF, Swampthang and Flinteye this time. Fishing was tough, but man we had some fun.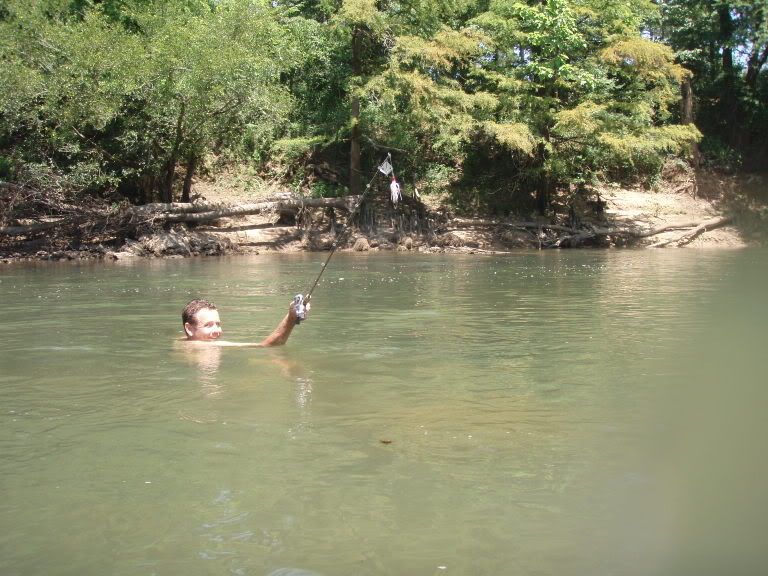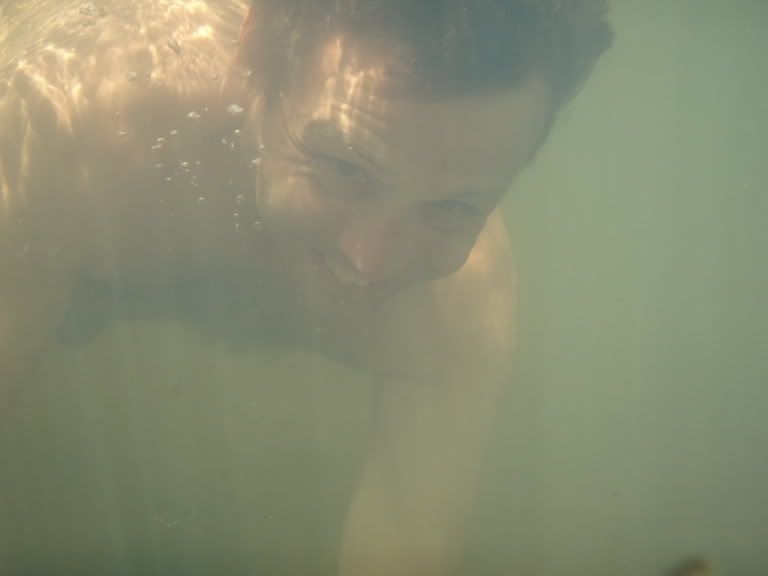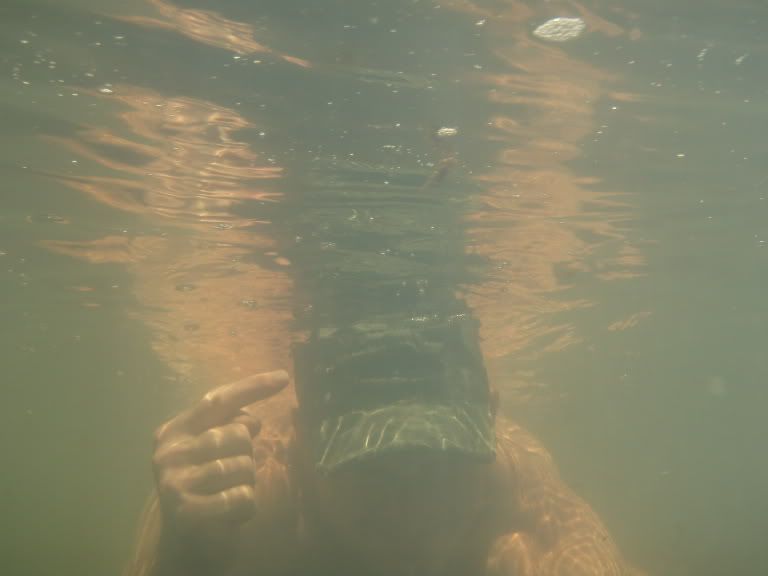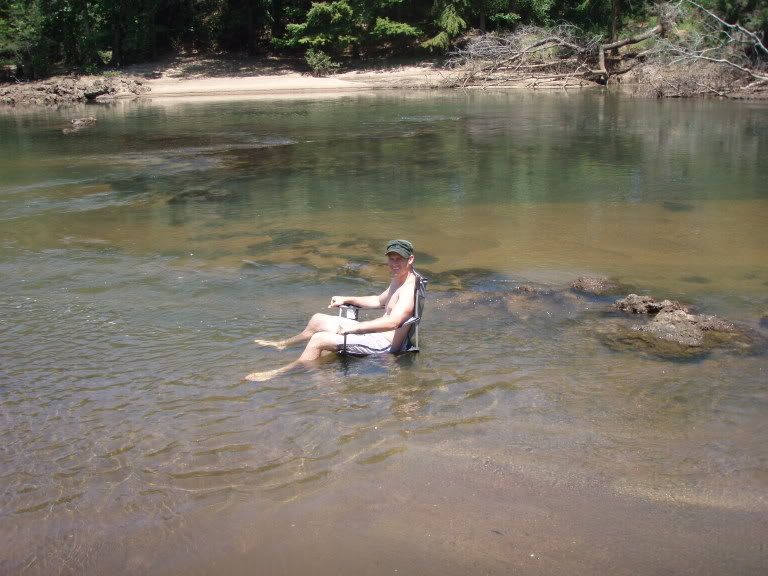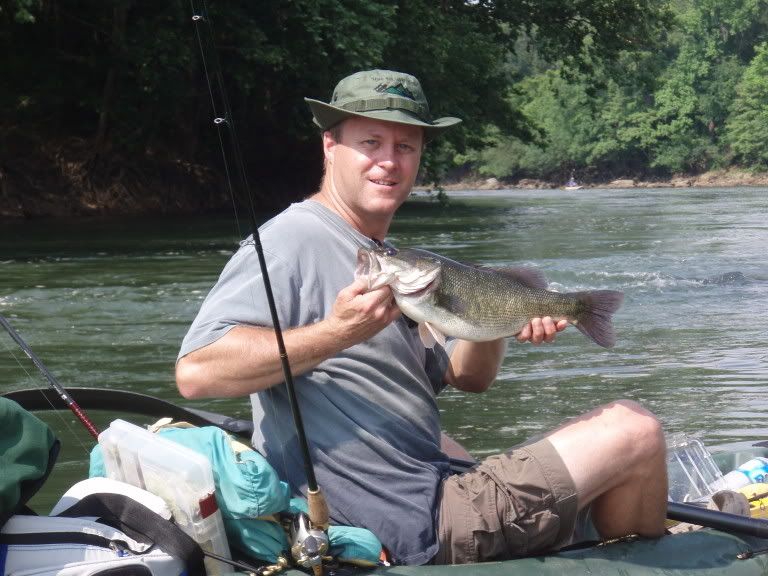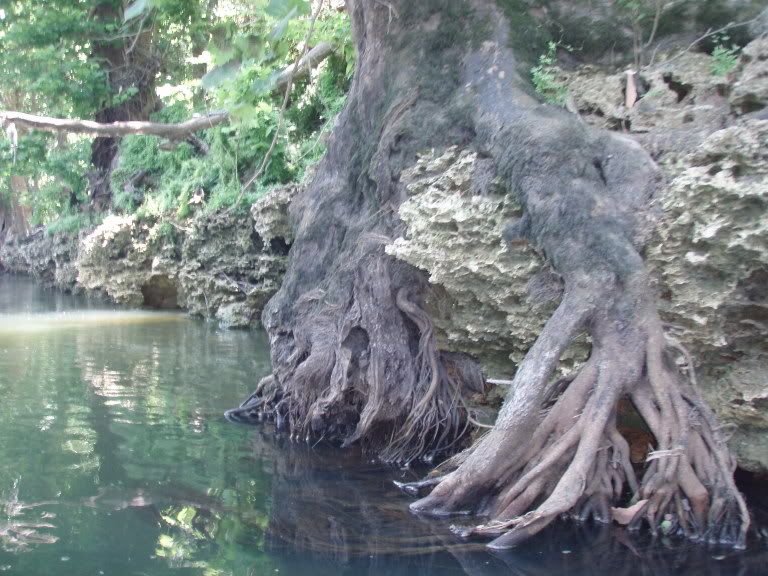 Back to n. ga, Aldo and I teammed up for one exciting day. Aldo lands this nice shoalie and I was able to get a 5lb and 6-12 LM.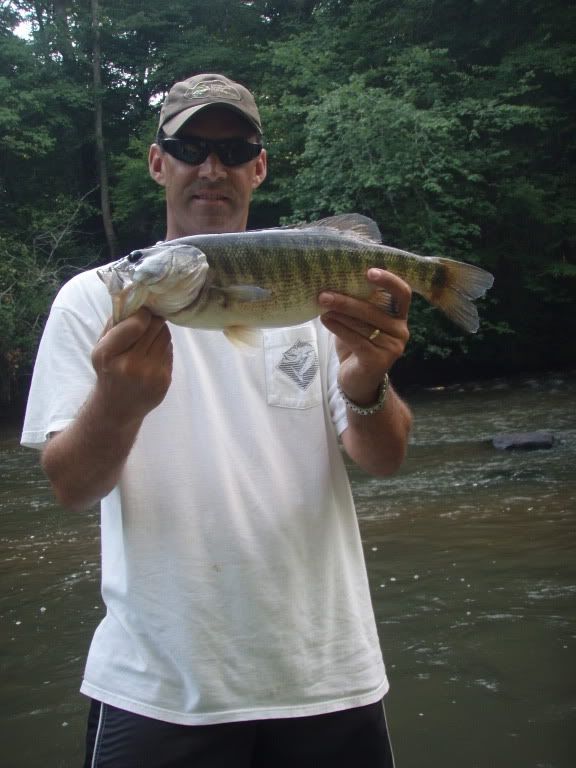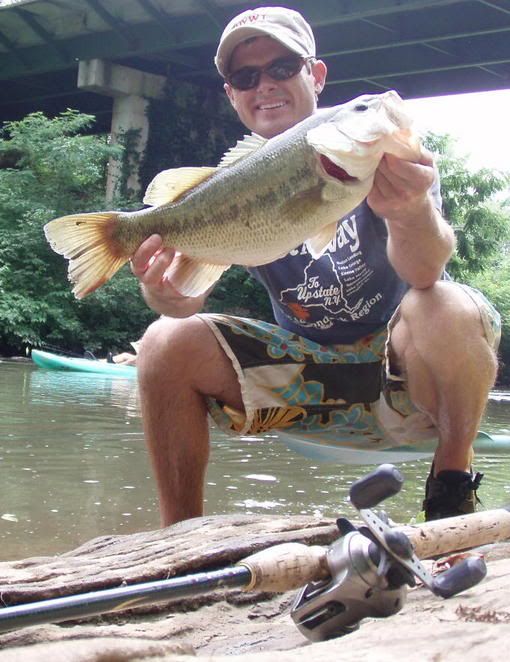 Then, I went for a job interview in SC. Well, if I am considering moving here I have to fish a little bit to help me make up my mind...so I did.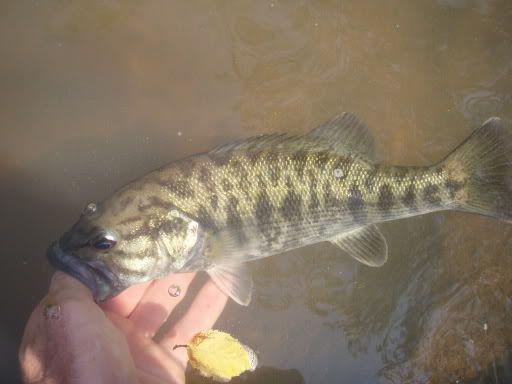 Then, I headed back to GA and interviewed for a job in Rome. Well, FA and I took a spur of the moment trip on a small flow in his area. It is good to know GRFers in each town...lol. We saw some interesting scenery and the scenery also saw us!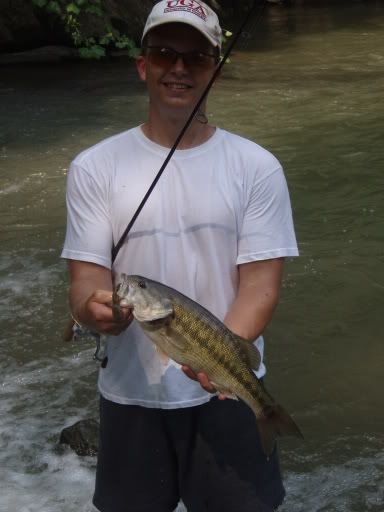 \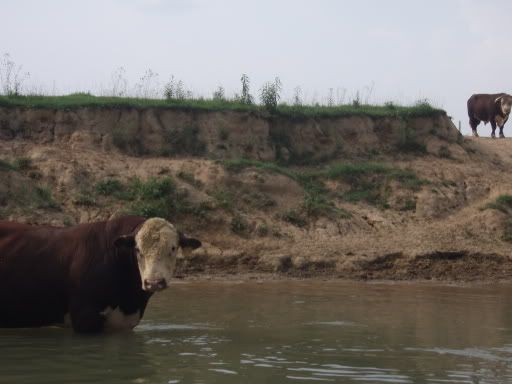 Got to put my dad on some good fish. Nothing can top that.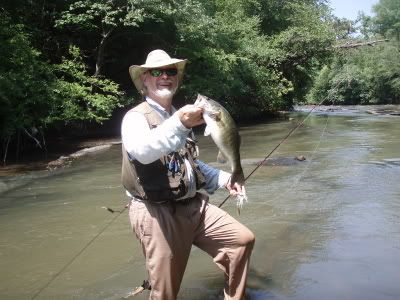 Before I left N. Ga, I hit some more small flows and got some cool underwater shots.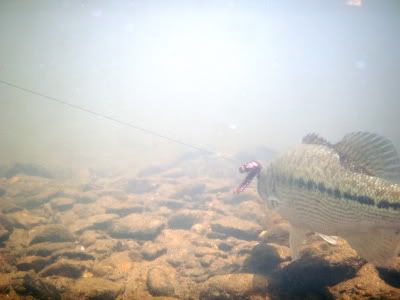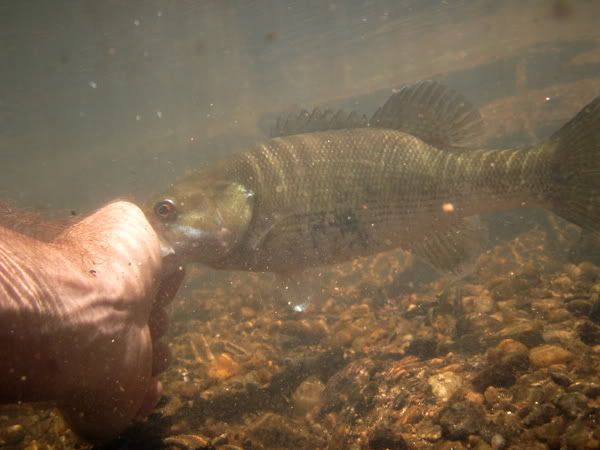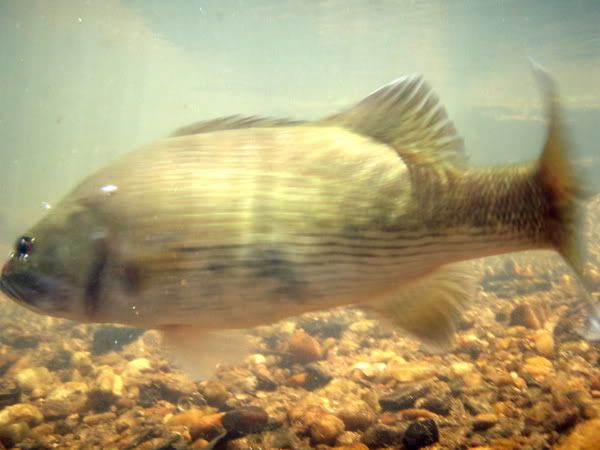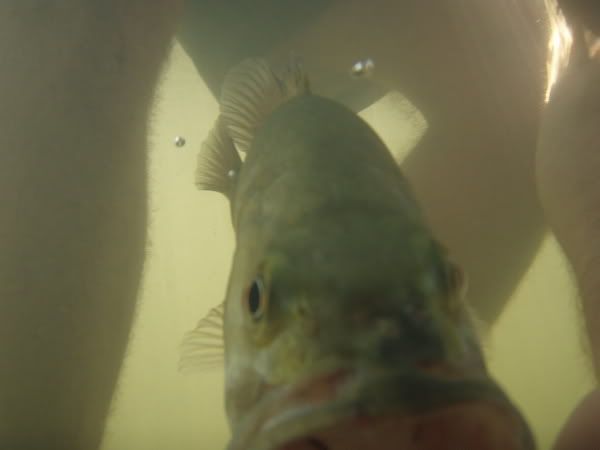 On my final outing in N. Ga before I left to SC, I managed my best N. Ga outing...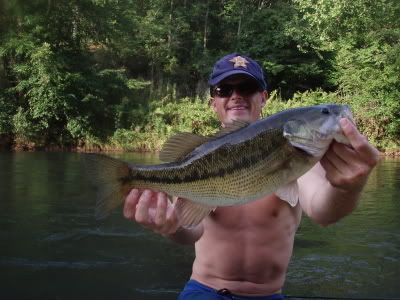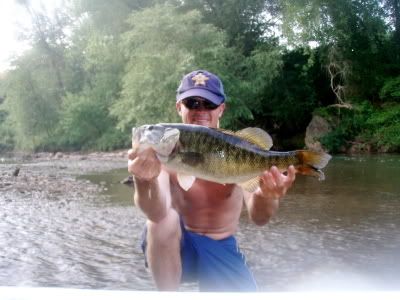 Since I was selling my house and didnt have any food in the fridge, I managed to keep a few and boy were they tasty!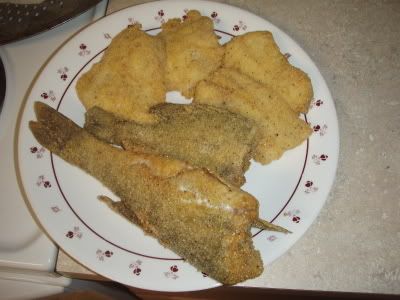 Then, it was family reunion time in Arkansas....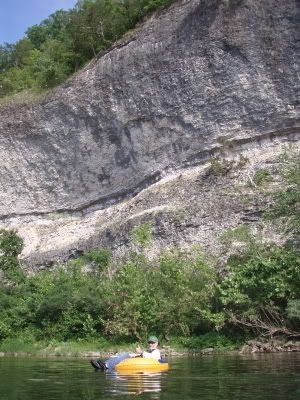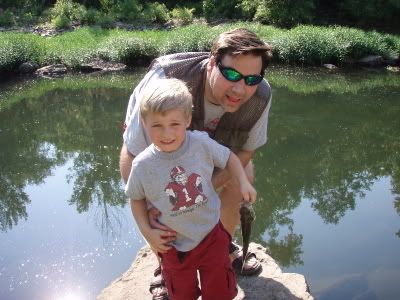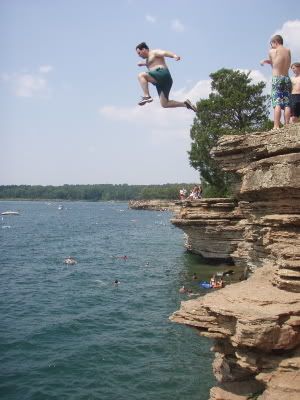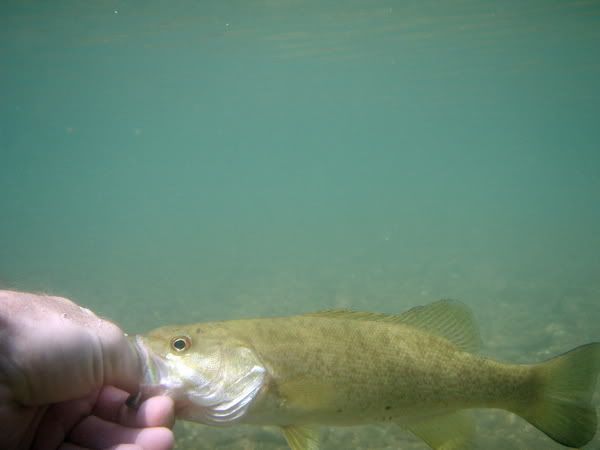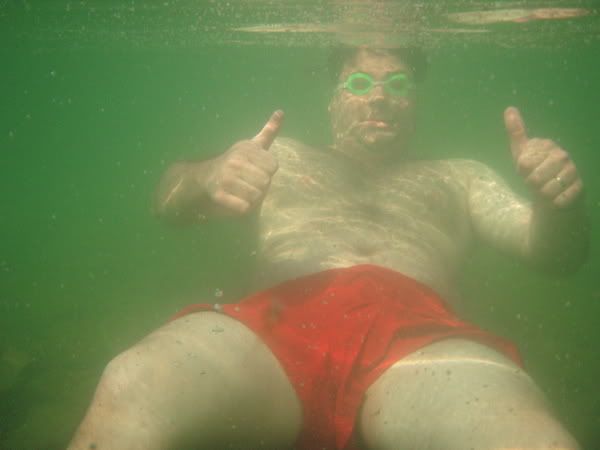 Back in GA Red Heron decides to make a new friend...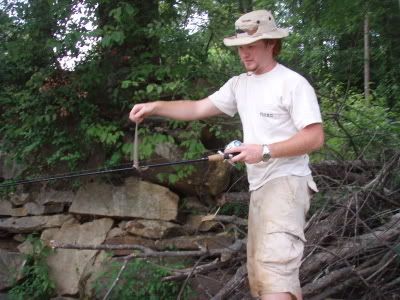 Then my fishing got cut into when this happened....jk babe, not that she would ever read this but ya never know...
Still managed a trip or two over to GA before this little silly thing called the GRF bass tourney came to an end. KL, Red Heron and I did a nice campout trip and I was fortunate enough to land my personal best river bass at 7-8.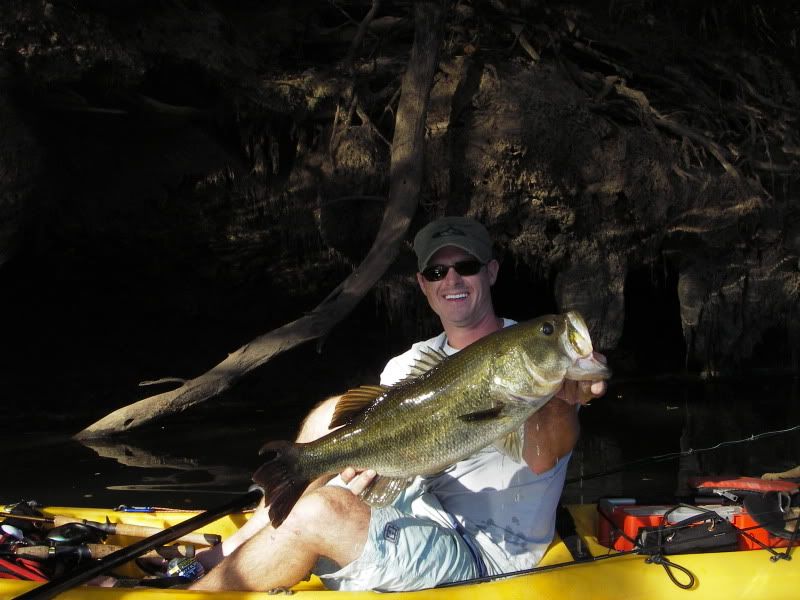 Then, as it was getting cold, the shoalieman and I decided to stick with it in the rain and we were able to score some nice fish...
The next day I zipped over to SSF's neck of the woods and again was able to have a great trip with great fellowship.
Went to a conference in AL, but my boss never said "no fishing along the way." Pulled off the road on some random creek and started upstream casting away. Who knew a creek so small would have produced a nice size bass.
Then, it was one last hoorah with Shoalieseeker and SSF. It was a pleasure doin business on the rivers with those boys this year. It was a pleasure fishing with every GRFer this year.
The most important thing in '06 to me was getting out and enjoying God's creation with a handfull of friends from GRF. I was able to catch all different species of fish, big fish, small fish. I fished big flows, small flows, mountain flows, s. ga flows. It was about as good a year as one could ever ask for. I doubt I will ever fish as much in a year as I did in 06, but if I dont it is because of some more important things in my life and I am fine with that. I hope '07 treats each of you well and I hope I get to spend some time on the water with many of you this next year as well.
Tight lines,
BD