Rabbit HUnting 1/3/09
Posted:
Mon Jan 05, 2009 7:50 pm
Blackwater, Cullfisher, Shoalieboy, Creekstalker and I all headed over to my hunting club today to do some wabbit hunting. First weekend after deer season was over so we got to hunt new property today.
Had a great morning. We all met up at the waffle house and after a good breakfast headed out in the rain. Fortunately by the time we got to my property it had slowed to a light drizzle and stopped right after turning out the dogs.
This was the first time in 5 years my place had been rabbit hunted and I was a little nervous on what we would find. Good news... 10 minutes after dropping the tailgate we had a race going. Blackwater missed that rabbit but Creekstalker followed him up with a benelli to the cottontail. We had a great day. I think we had 9 races and killed 4 rabbits. 2 buck rabbits and 2 cottontails. Stayed in them pretty hard on one spot before moving around the property to hunt some other locations. Ran those two buck rabbits back to back in a creek bottom with tons of cane. I killed one of them and Blackwater popped the other one.
We tried to get Shoalieboy a rabbit but he and Cullfisher just always picked the wrong direction today. Final tally was Creekstalker 1 cottontail, Blackwater 1 buck rabbit, Celticfisherman 1 cottontail and 1 buckrabbit. My old Remington Model 17 20 ga. shot true today!
Here's everyone but me with the dogs and the rabbits.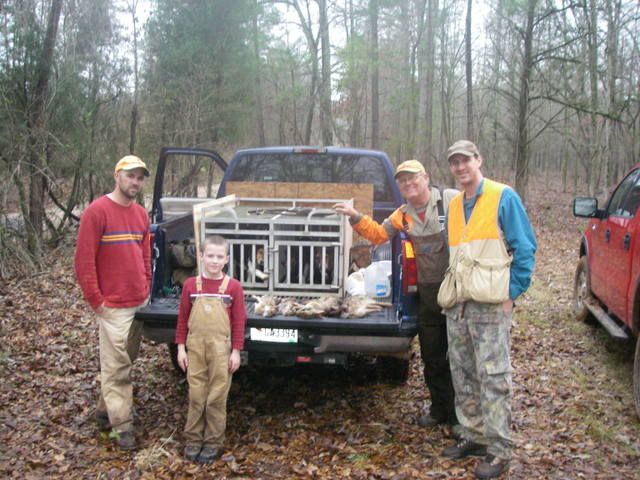 This was a great day in the woods with some people who this year have become great friends. And from Thursday I got to add a new one to the list. Creekstalker. Sam I had fun today and hope you come back with us.
Blackwater you tell Ms Jo she can sure make some soup! And your cornbread ain't bad either...